When orders are entered online, payment information is required to process the order. Customers can pay for their order with a credit card, a debit card or a bank account (ACH). They will choose which payment method they would like to use and then they will enter that account information to process their order. Order payments are then processed as follows:
Customer payments are processed on the Friday after your group's order closes.

Local customer payments are processed on the Tuesday after your group's order closes. (Local sales reps pick up their orders from the warehouse on Wednesday, Thursday or Friday of that same week.

)
The EXCEPTION to this process is NET 10 order payments. (See NET 10 for information on this payment option.)
Change/Update Payment Method
Step 1: Login to your portal. Select your customer and click "create order".
Step 2: Click on "My Account: Hi XXX" then select the Payment tab.
Step 3: Click ADD under Credit Cards OR eChecks and add the info to the popup window and save. Set the new payment as default.

Step 4: Go to the "Order History" tab and find the order that needs payment updated, then select "Change Payment Method". Select the desired payment method by clicking "Set Payment" and Confirming "Change Payment Account" for that order.
If you need to add new payment info to a specific order, be sure and select that order.
If you have multiple declined orders you will need to "Set Payment" for each one.
Please let the office know that new payment info has been entered on a declined order so we can reprocess it. Entering new payment info and setting payment does not automatically process the payment.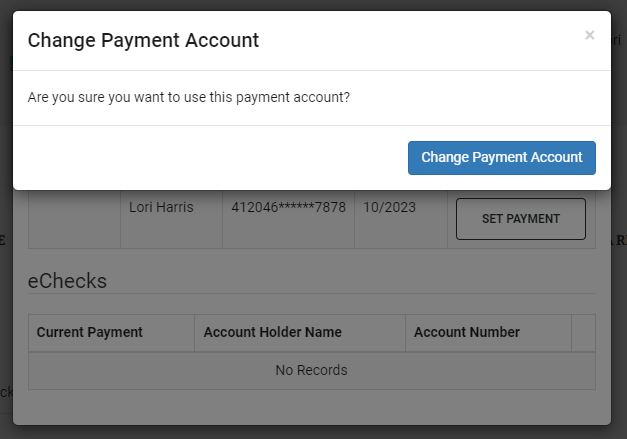 Net 10
Net 10 is a payment option offered by Alison's Pantry to qualified sales reps.
This payment option is used at the discretion of the sales rep and allows the customers to place an order without paying for it until it is delivered to the sales rep.
Please use caution in allowing customers to place orders on net 10 for more than $100.00. If a customer does not pick up their order on net 10 you will be required to sell their products.
IMPORTANT: You do not have to give this payment option to any of your customers unless you are confident that they will pay you for that order when it is delivered.
Sales rep MUST collect the money due for any NET 10 order from the customer BEFORE the customer can take their order home.
Payment can be collected from the customer at ANY TIME up until Day 9 after receiving your delivery at which point you will want to have the money deposited into your bank account so it is available for Alison's Pantry to withdraw it from that account on Day 10.
All Net 10 is due by noon on the Monday it's due. Any requests for extensions made after 12:00 that day may not be accepted.
Finding your Net 10 Total Due: Go to your Reports Tab in your portal. Choose the Commissions report. Then select the catalog you want your net10 total for and click filter. Once it loads you can scroll down to see the following totals: subtotal sales, net 10 total and commissions! Lots of helpful info in this report 🙂
Net 10 is a privilege. Alison's Pantry is extending credit to you for orders processed as Net 10 and payment for those orders is due 10 calendar days after receiving your delivery. It is your responsibility to get the money collected from your customers and into your bank account within those 10 days, but ultimately, you are responsible to make that payment and need to have the required amount available on Day 10. Any NSFs or extensions of time beyond the 10 days will result in fees being added to your account and the possibility of losing your NET 10 payment privilege.
---