2024 Ordering Schedules
---
2023 Ordering Schedules
2023 Customer Schedules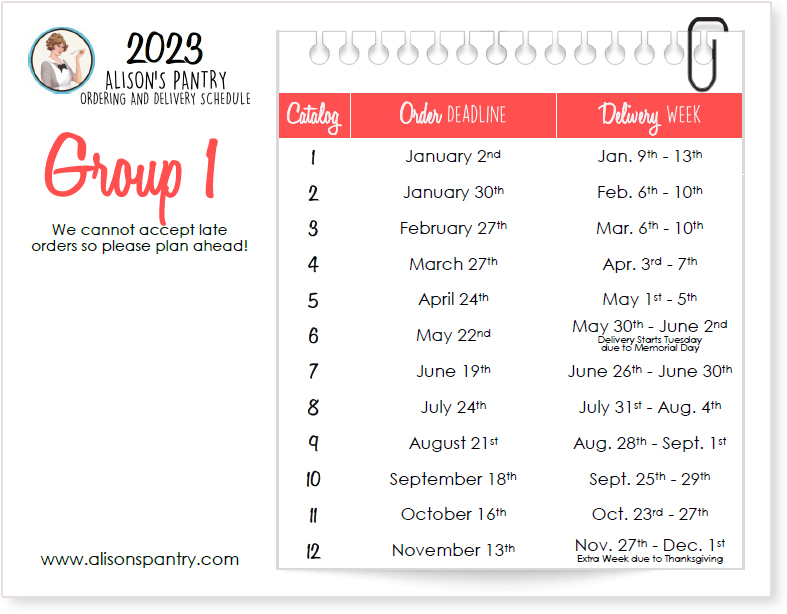 Click your Group to view, then save, or print your customizable 2023 Ordering and Delivery Schedules PDF for your Customers.
You can customize the PDF with your rep info in Adobe before uploading OR after uploading the PDF in Vistaprint.
2022 Customer Schedules
Catalog Mailing Deadlines
Be sure you've made any mailing and address changes for your customers by this date to ensure they get that catalog mailed.
October Catalog Deadline – August 15th
November Catalog Deadline – September 19th
2023 Catalog #1 Deadline – October 17th
2023 Catalog #2 Deadline – November 28th
2023 Catalog #3 Deadline – January 16th
2023 Catalog #4 Deadline – February 13th
2023 Catalog #5 Deadline – March 13th
2023 Catalog #6 Deadline – April 10th
2023 Catalog #7 Deadline – May 8th
2023 Catalog #8 Deadline – June 5th
2023 Catalog #9 Deadline – July 10th
2023 Catalog #10 Deadline – August 7th
2023 Catalog #11 Deadline – September 5th
2023 Catalog #12 Deadline – October 2nd