2022 Ordering Schedules
You're going to love the new regular ordering dates each month for your group!
The only major change to the schedule for 2022 is to limit each catalog to one calendar month (no more overlapping!). In order to do this, we will only have 11 catalogs for the year instead of 12. This will allow us to adjust our catalog deadlines for each group.
Please remember, new items and sale pricing will be available after group 4 closes every other month.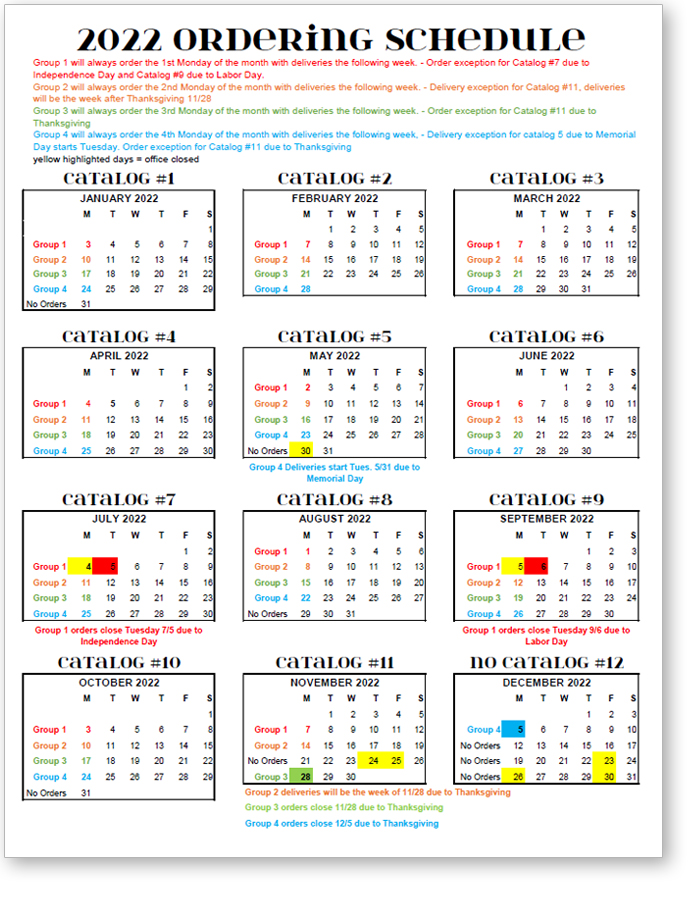 Here are some answers to a few questions you might have:
Will I still get a magnet schedule? Yes! We'll be sending those out with your #11 or #12 orders.
Will magnet schedules be available for our customers? Yes! Find them below!
Will my delivery still be the week after my orders close? Yes! Except for 1 noted exception due to Thanksgiving for Group 2 – see the pdf schedule.
Will there be orders in December? As usual, there will not be orders in December except for the first week for group 4 for catalog #11.
When will fall items be in the catalog? As usual, seasonal items will be timed so that they are available to every group for holiday ordering (this applies to Easter hams, Thanksgiving, and Christmas.)
You can download your copy of the 2022 schedule by clicking here!
Catalog Mailing Deadlines
Be sure you've made any mailing and address changes for your customers by this date to ensure they get that catalog mailed.
May Catalog Deadline – March 21st
June Catalog Deadline – April 18th
July Catalog Deadline – May 16th
August Catalog Deadline – June 20th
September Catalog Deadline – July 18th
October Catalog Deadline – August 15th
November Catalog Deadline – September 19th
December Catalog Deadline – October 17th
January Catalog Deadline – November 28th