Closeout List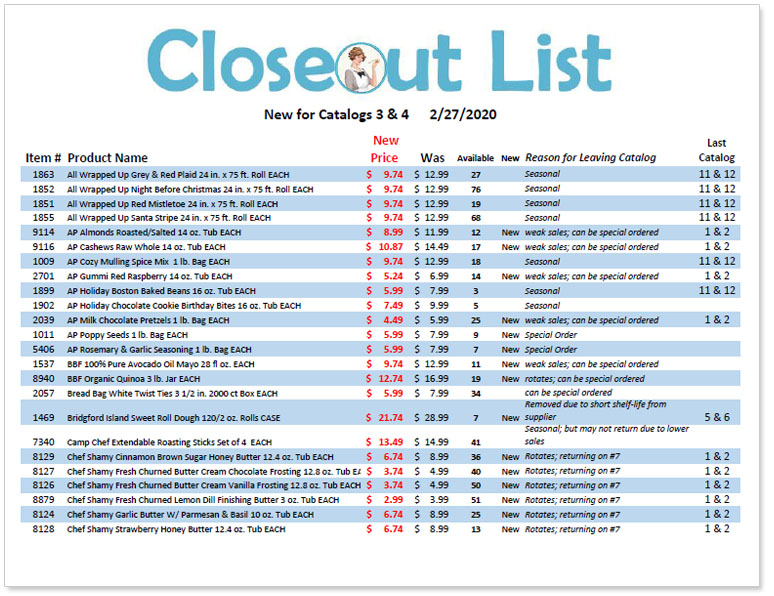 Current Closeout List
Every 2 months we post a list of any items left in stock that were removed from previous catalogs and any mark downs taken on them. Refer to the list for reasons why they left the catalogs and the last catalog they were in.
All items are limited to stock on hand on the website!
Be sure and order them online while you still can!
Wondering if a product is coming back or why it left in the first place?
Check this comprehensive list for which products are leaving and why for each catalog for the year! The list also includes which products are in the catalog but have been discontinued by the manufacturer and are no longer available. This list will be updated every 2 catalogs 🙂
#5 Items Leaving List – Search by Item # or Keyword
Product Changes
Due to covid production challenges we are seeing many products with price increases, or become temporarily unavailable or discontinued by our manufacturers after the catalogs are already printed.
Although there have been too many price changes for us to keep up with here, we've tried to list most of the major ones, so be sure to check the list below for any changes.
Supply Chain Issues Explained
If you need help explaining to your customers the supply chain issues due to Covid, check out this helpful video from Josh!
We are receiving too many product changes from our suppliers to keep up a running list. Please consult the website for notes on products then, email us for info if the item is not on this list or the website. 🙂
Search by item number or keyword