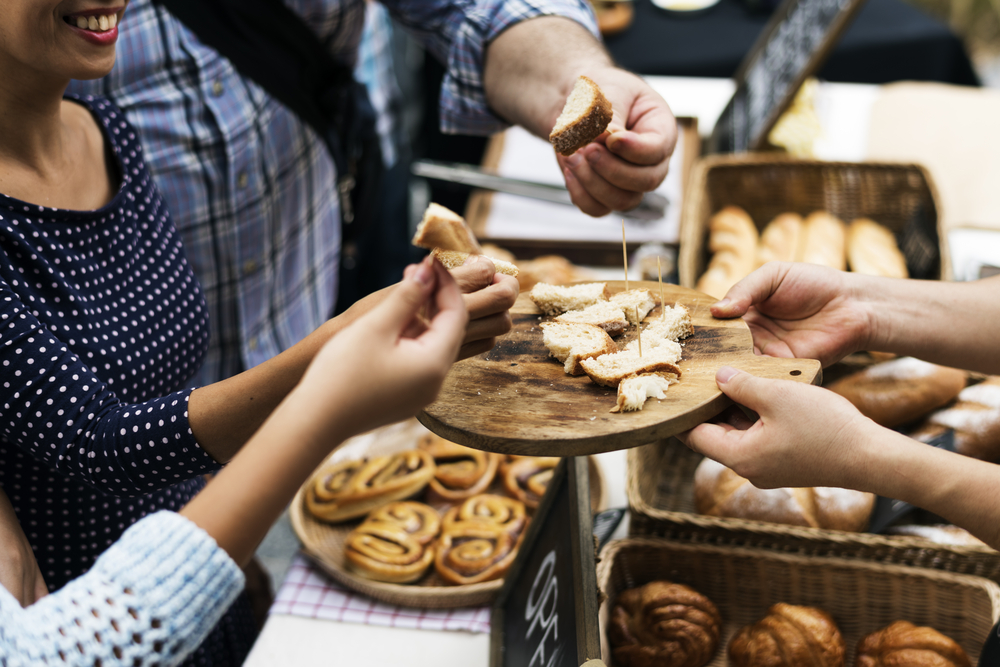 Sampling products at order pickup is a great way to give your customers an opportunity to try something new before they buy it. If they like the product they sampled, they are going to be more likely to buy it in the future!
Why Offer Samples to customers and Potential Customers?
To say thank you and show appreciation to your customers.
To build relationships and loyalty.
People hesitate to buy something new unless they have tried it first.
Expand the customers' knowledge of our products.
Build shopper's confidence about purchasing our products.
Samples at Pick Up
Start with your favorites. What do you love?
Consider what is easy to prepare, easy to serve and easy to share.
Plan ahead. When you place your order, don't forget to add what you are sampling.
Label your samples with the item #, description, and price.
Follow up is key! Ask your customers if they would like to add the item to their order!
Don't forget non food displays at pick up and explaining how non food samples look and work.
Samples at Vendor Shows and Craft Fairs
Don't sample meat. Ever.
Keep it simple. Don't offer too many different things.
If you are selling products at your booth make sure you have lots of what you are sampling to sell. People will want to purchase it on the spot.
Samples with catalogs – Staple a mini baggie of our spices with a label on it to the catalog to give to new customers.
Samples at fundraiser and raffles – Don't be afraid to give your products away! Offering a gift basket for a raffle or fundraiser is a great way to get new customers.
Samples at open houses – Try doing a theme such as breakfast, seafood or our baked goods.
Sample anytime- Anytime you serve food anywhere such as parties, church potlucks, school functions, the sick neighbor, make sure you are serving AP foods.
Samples to Offer
Any of our soups
Biscuits
Any of our baking mixes including
Any of our French fries including
Any of our frozen fruit
String cheese or cheese curds
Any of our candies or trail mixes
Any of our pre-packaged snack items
Janey Lou Beehive Rolls or Janey Lou Cinnamon Rolls
Fruit turnovers #1889, #1199, #1890
Bosco Pizza Sticks
Any of our dips including Popeye's Spinach Dip #1423, or Dilly Dip #1421
You can sample products to your customers in several different ways:
Put a prepackaged dry product in each customer's order or have one they can take home and try.
Give each customer a frozen product they can take home and prepare later (such as several slices of precooked or raw bacon, frozen rolls, thaw and serve cookies, etc.). *Don't forget the instructions on how to fix the sample!
Have one or more items prepared for customers to try while they are waiting for you to get their order ready (cinnamon rolls, soups, rolls, cookies, muffins, etc.).
Some ideas about sampling products:
Use plastic gloves when handling raw or prepared product for your customers to keep things sanitary.
Samples that need to stay warm, like soups or deep-fried products, should only be offered for a short time frame (3-4 hours) and should be kept in crock pots or warming trays. *This type of sample could be used as an incentive to get customers to come by to get their orders more quickly or on a specific day.
If possible, have extra of the product you are sampling so customers could buy it right then if they really like it. You could split cases and sell individual bags if you are sampling things like the potato products, thaw and serve cookies, cinnamon rolls or Beehive rolls, etc. **Do not split cases of meat!!
Sample products that will be highlighted in the upcoming catalog, such as the products we do training on in our monthly Webinars. These products will usually be on sale which gives the customer another reason to buy them right away if they like them.
Sample items that would work great for the season. Example: Soups & rolls or hot chocolate for winter time; appetizers and dessert items for football season or special occasions; grilling spices, trail mixes, or snack items for summer time; easy breakfast items, after-school snack items, or quick fix dinner items for fall. And, of course, many of our items are great year round – like our mixes (muffin, brownie, cookie, etc.)!
Make your samples appealing by displaying them in clean, eye-pleasing containers or trays. Have ingredient lists available, directions for preparing/baking the items, suggestions on how to use them, etc.
Be enthusiastic and share what a great product it is that you are sampling!
Samples are a business expense and can be written off on your taxes as an Advertising Expense (cost of product plus shipping and sales tax, if any).
If you're not ready to sample product, you can still have a display of non-food items or, even better, your own order, for customers to look at while they are waiting for you to get their order. Even this type of display will spark some interest in our products and generate sales! Customers love to see what you buy! **Make sure you have a sign stating these items are for DISPLAY ONLY or your customers may try to buy them from you!
Good luck with sharing our great products with your customers each month!