Due to a major lack of space in our warehouse and a significant lack of time as we manage extra-large orders, it's necessary to suspend all Special Order requests for awhile. What was already requested through Rep Support (the Special Order button on the Rep dashboard) has been ordered today if it was confirmed with Lori, but we won't be taking any additional special orders until a later date. This will ensure we can focus on filling catalog orders. Thank you for your understanding.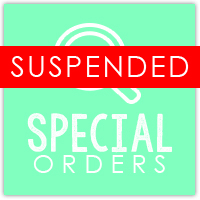 Please note that special orders are not guaranteed. We can still be shorted by the supplier or find out that it's no longer available.
When requesting special orders remember that it is a commitment to buy it when it comes in. Be sure your customer knows!