We love our reps and hope you enjoy getting to know each other.
Jamie Perkins
Panaca, NV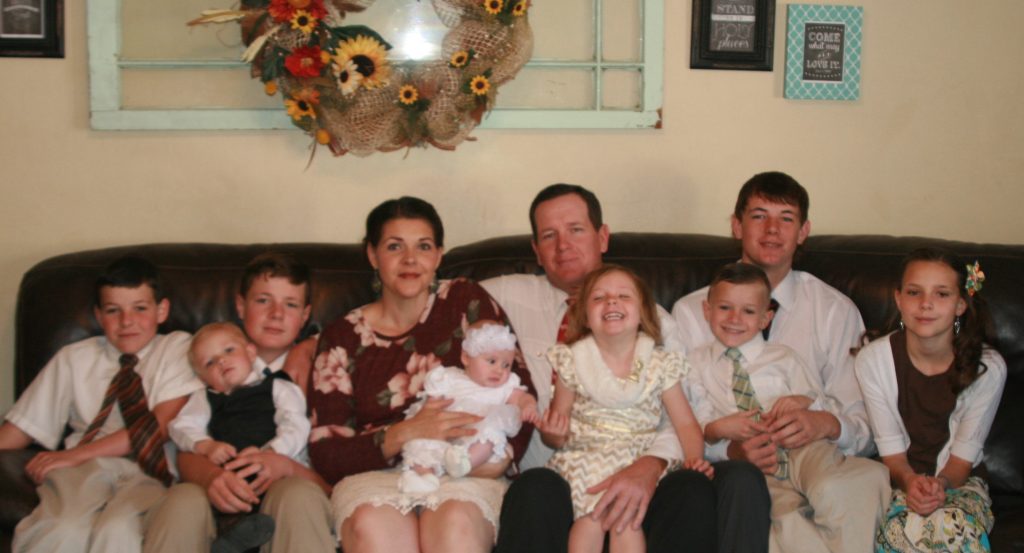 Hi, I am Jamie Perkins from Panaca, Nevada.  I have been married for 19 years to my husband, Grant Perkins, and we have 8 kids 16 and under—Trevin, Bryson, Stetson, Tatelyn, Jexten, MaKyzee, Cutler, and Emmaree.  I don't personally have many hobbies, besides chasing kids, but someday I am hoping to scrapbook again, possibly ride my horse, and maybe read a book!  In the meantime, I follow them to wrestling and basketball and shooting sports, cooking and cleaning and trying to stay sane!
I became a Rep in June of 2018, taking over for a friend that had new adventures ahead. It was something that had been in the back of my mind for many years and I really feel was meant to be. I was very concerned because I live 3 miles north of our town of 900, and 1.5 miles of that is dirt road. And some of those people come from Pioche, 14 miles further. BUT, so far it has been GREAT! Of course, we are rural, 90 miles to Cost-Co or Walmart, so that also creates a higher demand for our products. People love their Alison's Pantry, but they also love supporting a person that they can relate to, so let them get to know you, and you will love them right back!
Heather Wilderness
Douglas, WY
A little about myself and family. I have been married to my husband Josh for 11 years this June! We live in Douglas, WY with our 2 children McKenna 10 and Bryson 5. We have been here for over 1 year and hope to stay here forever! We love Douglas! I am a stay-at-home mom and teach piano and vocal lessons from my home. We are very active in our church and I currently serve as the first counselor in the Relief Society. I have been keeping my eyes open for the last little while for a part-time job for when my son starts all-day kindergarten in the fall. I have been searching for something that would allow me to still be at home with my children and still be able to teach music lessons which I absolutely love so when my dear friend Shellie had mentioned needing someone to take over Alison's Pantry I asked her questions, spoke with my husband and asked more questions! We decided that Alison's Pantry would be perfect for us. It is something that will allow me to work from home, help provide groceries to our rural community and help me keep in touch with our community and people. I am very excited to be a part of this company!

Jessica Kimber
Malta, ID
Hi my name is Jessica, I'm a single mom of 2 girls Ashlyn 6 and Oaklyn 1. I joined Alison's Pantry not only for the financial part but for becoming a more social person and building lasting friendships. I can't wait to start my journey and be able to work hard towards my goals and being more involved in the community. Super excited to be a part of Alison's Pantry!
Janell Cox
American Fork, UT
Hi, my name is Janelle Cox. I currently live in American Fork, UT and I have lived here for the majority of my life. I have a beautiful one year old daughter. In addition to working with Alison's Pantry now, I also work as a customer service representative at Wayfair. I love spending time with my little girl, going on walks, doing crafts, and baking. The desire to stay at home with my daughter as much as possible while still being able to bring in income that has brought me to Alison's pantry as well as my love of great food. I am excited to be able to offer great products to family and friends and make new friends with amazing people.
Kourtney Green
Beaver, UT
Hi, my name is Kourtney!
I currently live in Beaver, UT and have lived here for most of my life. I have been married to my husband for 5 years and we have 3 beautiful kids together 2 girls and a boy ages 4, 2 and 3 months!
I am also a CNA and work occasionally in a long term care facility and recently started making customized tumblers to keep me busy!
I love Alison's Pantry and have ordered on and off over the last few years! I was excited when they were looking for a rep to take over in my area!
I am excited to make new friends and excited for people to love the food as much as my family does!

Felicia Post
Roy, UT
Hi, I'm Felicia Post, my husband and I just moved to Roy, UT about 6 months ago and we love it here! We have 5 kids, I am a stay at home mom, and he is a general contractor. We love being together, hiking, boating, building, crafting, cooking, baking, and any other "projects" as our kids like to call them. It is my absolute love of good food and the desire to stay at home with my babies while still being able to bring in income that has brought me to Alison's pantry. I am also really excited to connect with new people and be able to offer products to my family and friends that I think they will really love!