Monthly Marketing Helps: Catalogs 9 and 10
Retaining current customers and growing your sales is easy if you use these helpful tools each month!

It's hard to believe we're talking about autumn already!  This season of crisp temperatures and pumpkin spice everything is one of our favorites. 
---
During Catalogs #9 & 10, we're focusing on helping families enjoy fast and easy meals from our catalogs. Be an expert on simplifying mealtime! Help your customers stock up on comfort foods, and introduce them to our fun assortment of new products.  Want some fresh ideas to reach your customers,  check out these tips compiled from Reps on our recent webinar.
---

Suggested Products for Sampling During Catalog #9 & 10:
Allowing your customers to sample products can really help your sales!  Here are a few products that we suggest sampling or displaying to help your fall sales:
Frozen Soup Supreme or Blount Soups.  Heartland Chicken Noodle, Cheddar Broccoli Cheese, and Cream of Potato are some of our most popular flavors.
USA Pans. Treat yourself to at least one of these premium pans so you can display it for your customers to show them the excellent quality. They are worth every penny (and they're made in the USA!!).  They are our favorite baking pans and we're so excited to be sharing them with AP customers.
If your customers are coffee-drinkers, our new Alison's Pantry Premium Ground Coffee Blends will make an easy and welcome product to sample.  If they aren't, our new Dick & Jane Educational Snack Crackers are absolutely delicious and a great product to sample for a back-to-school lunchbox idea.
---

Please remember to let customers know about the products that will be leaving our catalogs after #10 when the new list is posted. Be sure to check this link to see which products will be unavailable after Catalog #10.  Then you can share this information with your customers so they can stock up on personal favorites before they leave the catalog.
---

Duplicate this text script and send to your customers to round up better orders.  We've included shortened links to make it easier for you.
Copy for Catalog #9…
Today is your Alison's Pantry Catalog #9 order deadline.  Did you see our new products for fall baking? Commercial grade, made-in-the-USA baking pans, Guittard chocolate, and yummy back to school snacks. So.much.fun!!
Enjoy easy shopping with our FlipBook: https://bit.ly/2LVYShV
Copy for Catalog #10…
Today is your Alison's Pantry Catalog #10 order deadline. Don't miss out on this sale on a popular AP product: #8555 Milford Valley Chicken with Broccoli & Cheese Entrees–Reg. $36.99 Sale $27.99 on page 15!
Find these and other products to make your meals easier in our FlipBook: https://bit.ly/2w4gKgi
---
---

Click here for our Catalog #9 marketing images, including the one at right.  We've done the work so you don't have to!  Download these beautiful images and post them to your social media accounts or add them to your marketing emails.
Click here for our Catalog #10 marketing images, including the one below).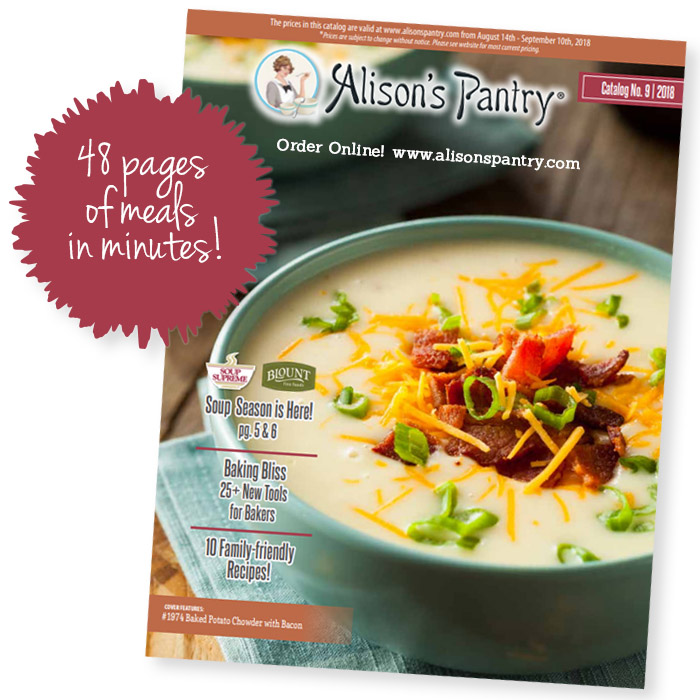 ---

You can copy and paste the links below in your own personalized texts or emails to customers to link them directly to the current catalog.
Catalog #9 PDF: https://bit.ly/2LWJ0LL
       Catalog #9 Flipbook: https://bit.ly/2LVYShV
Catalog #10 PDF: https://bit.ly/2CMS0iu
Catalog #10 Flipbook: https://bit.ly/2w4gKgi
---
We'll be sending a last call reminder email, similar to the one below, to all customers on our email lists the Saturday before their order deadline.  Many customers are not on our list though, so it's a great idea to copy the info below and send it on to your customer list.
Copy for Catalog #9…
Pumpkin spice and everything nice!

More reasons to fall in love with the best season of the year.
Crisp air and crunchy leaves, sweaters, football, apples, hot cocoa, and pumpkin spice everything.  There is so much to love about autumn! It was hard to find any way to make this season any better, but we think you're going to like what we came up with–fabulous new baking tools and ingredients to make it even more fun to be in the kitchen this fall.
Don't forget to stock up on comforting soups, proof-and-bake breads, and other cozy foods from Catalog #9 before Monday night when orders close for this month.  Plus, pumpkin cake rolls, red velvet cake rolls, and cheesecakes are back from The Father's Table.  Quantities are limited, though, so don't wait to add your favorites to your cart.
Commercial quality, made in the USA pan for perfect mini cupcakes and muffins.
$22.99
Order Mini Muffin Pan»
See more of the best pans we've ever baked with:
Brownie Bite Pan
Lasagna Pan
Mini Fluted Cupcake Pan
Mini Loaf Pan
Texas Muffin Pan
BARE Loaf Pan
NEW Guittard Semisweet Maxi Chips, 2.5 lb. Bag
Bigger drops of premium semisweet chocolate for more in each bite!
$10.99 
Order Semisweet Maxi Chips »
See all NEW Guittard Chocolates »
Soup Supreme Cream of Potato Soup
$11.99 
Order Cream of Potato Soup »
Shop all Soups »
---
Copy for Catalog #10…
There's still time to pre-order holiday favorites…
but only a few more days!  Catalog #10 orders are wrapping up, and I want to make sure you don't miss out on anything. Here's a cheat sheet to make sure your order is complete this weekend:
---