We love to make your life easier! Use this Monthly Calendar to help you remember important dates and keep you on schedule for a great order.
The digital copy also links directly to our text and email scripts.
Other helpful information to help you boost your monthly orders: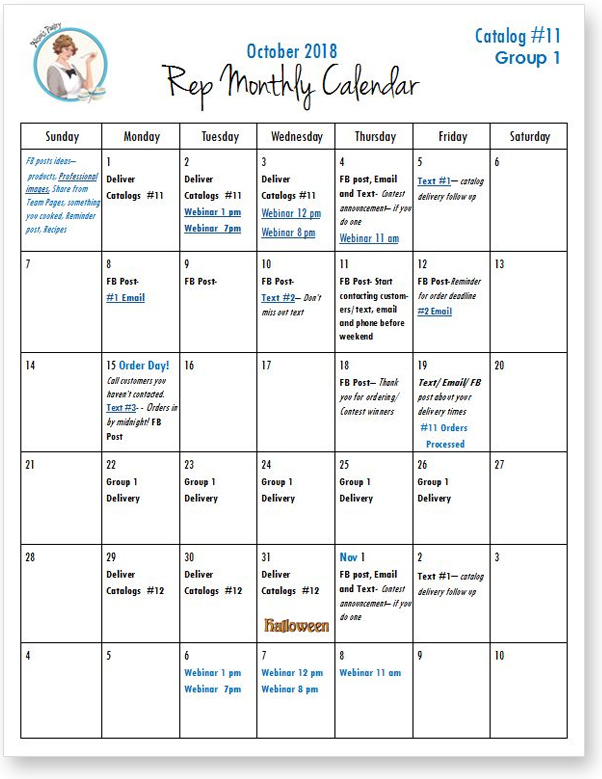 ---
Allowing your customers to see and sample products can really help your sales! Here are a few products that we suggest sampling to help your sales:
Catalogs 5 & 6 Sample Ideas
CREAMIES or LUIGI'S frozen treats, pg. 4
Serve a Lemonade Bar (Country Time Lemonade, Monin Syrups w/pumps, and plastic cups so customers can sample)
Cornaby's Savory Sauces or new Cornaby's Cowboy Candy served with cream cheese and crackers
#2021 Campbell's Cream of Potato soup (on sale in #5-6)
#1748 Pretzilla Pretzel Bites (on sale in #5-6)
#5646 Bridgford Buttermilk Biscuits (on sale in #5-6). You can serve with Cornaby's 10 Calorie Jams, Pioneer Valley Jams, or heat the biscuits, quarter them, dip in melted butter and then in Cinnamon Vanilla French Toast Sugar.
Catalogs 7 & 8 Sample Ideas
Depending on COVID-19 restrictions, these products could be individually portioned to be sampled to customers with their orders, rather than prepared and served at pickup.
1686 Stonefire Mini Naan Bread–on sale in #7-8
1841 SupHerb Farms Salsa Blend Herbs–reps will sell a ton of this product if they mix up a simple salsa and serve with chips. Recipe: canned or fresh tomatoes, red onion, lime juice or TrueLime packets, fresh diced peaches (and diced avocado, if desired and added before serving) and Salsa Blend is DELICIOUS! I add the Salsa Blend by tablespoon until I get the flavor I want, knowing it will intensify a bit as it sits and flavors blend.
2238 SuperPretzel Big Bites Soft Pretzel Bites
2217 Hearty Vegetable Dip with veggies and crackers
Any of our new gummy treats
2258 NEW 8 oz. Deli Containers–promote for summer freezer jams and mention Jam in a Jiffy
Creamies
#1830 Janey Lou's Chocolate Chunk Cookie Dough–on sale in #7-8
---
Catalog Shortlinks