We love to make your life easier! Use this Monthly Calendar to help you remember important dates and keep you on schedule for a great order.
The digital copy also links directly to our text and email scripts.
Other helpful information to help you boost your monthly orders: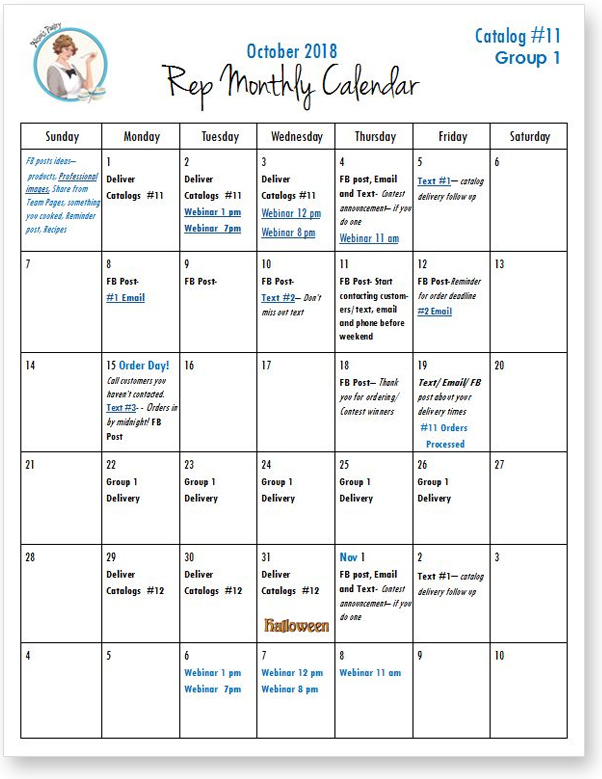 ---
Allowing your customers to see and sample products can really help your sales! Here are a few products that we suggest sampling to help your sales:
Catalogs 1 & 2 Sample Ideas
null
Either of the two new seasoned shrimp products from Pacific Seafood–#1927 Shrimp Scampi or #1929 Honey Jalapeno Shrimp on page 3. They're easy to prep and were popular at the food show. Our former Shrimp Scampi product has been discontinued by the supplier.
#1984 NEW RoastWorks Flame Roasted Sweet Corn & Jalapeno Blend, pg. 3. This makes a delicious Southwestern side dish but it's also great in taco or enchilada soups or casseroles.
Any of the Vanee canned products (pg. 4) would be great to demo so customers can see the great quality of these products. The soups are excellent! Vanee products will be available in Catalogs #1-4, and will rotate throughout the year.
Catalogs 1 & 2 are the last chance to stock up on Chef Shamy products before they're out of the catalog for awhile. You could feature the Real Buttercream Frosting (pg. 38) with the #1823 Classic Creme Cake Mix that's on sale OR the Honey Butters with the #7544 Vanilla Scone Dough that's on sale (pg. 34) OR the #8124 Garlic Butter with Parmesan & Basil and the NEW #1987 Sourdough Round or #1988 Split Top Hoagie Buns (pg. 4)
Catalogs 11 & 12 Sample Ideas
Want to make your Catalog #11 & #12 sales the best you've had all year? Sample products that your customers can't live without for the holidays!
#3855 Bright Harvest Sweet Potato Casserole–offered year-round
#7960 CarveMaster Ham–on sale
#8925 Beehive Rolls–on sale
#3388 Good Old Days Apple Caramel Crisp–only available for Catalogs 11 & 12, but customers will want one if they try it.
#5338 The Father's Table Pumpkin Cake Rolls–these are a limited qty item, but we currently have 324 in stock
#1827 NEW Orange Rolls and 1829 Raspberry Rolls–these may only be available for Catalogs 11 & 12, so you'd want to sample early if you want to build sales on them.
For #12 (Christmas): #9134 Janey Lou's Cinnamon Rolls & #8388 Cream Cheese Icing–offered year round and they're on sale!
#1673 Delizza Tuxedo Assortment–these are on sale for 11-12, they're easy to sample, and they were a hit at the food show when people were able to see and taste them
---
Catalog Shortlinks